Penn State Wins Sloppy Affair
Trailing late in the fourth quarter by a touchdown the Beavers had a chance to tie the ball game up, but Moevao while trying to elude defenders threw his third interception of the game and Penn State would prevail with a 7-0 victory. The crowd saw eight turnovers combined between the two teams and the rain clearly affected both teams.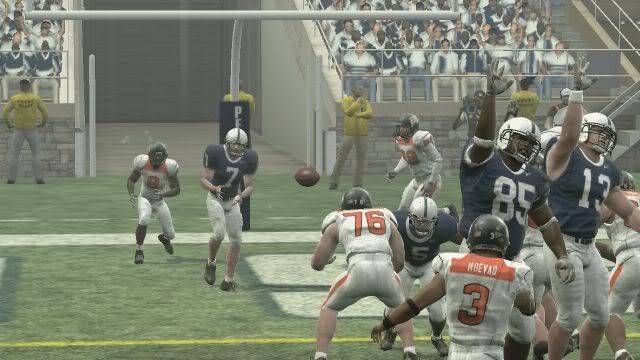 Moevao's third interception proved to be costly has it cost the Beavers a chance to tie the game late.
Offensively the Beavers did not run the ball enough, 20 carries for only 65 yards. Led by McCants 16 carries for 47 yards and Quizz's 2 carries for 6 yards. McCants squandered a Beavers scoring opportunity after Oregon State forced a turnover their own, when he fumbled on the Beavers 40 yard line. Moevao was 18 for 32 with 176 passing yards, but the three interceptions really hurt his offense.
Oregon State's defense played well enough to win the game allowing only 7 points which game in the second quarter on a 12 yard TD pass. Keaton Kristick was lost for the season with a broken collarbone. Victor Butler continued his dominant play with two more sacks. Oregon State forced four Penn State interceptions and held the Nittany Lions to only 50 rushing yards and 266 yards of total offense.
Beavers got after the Nittany Lions defensively holding them to 266 yards of total offense.
A Penn State defender steps in front of a Moevao pass intended for Sammie Stroughter.